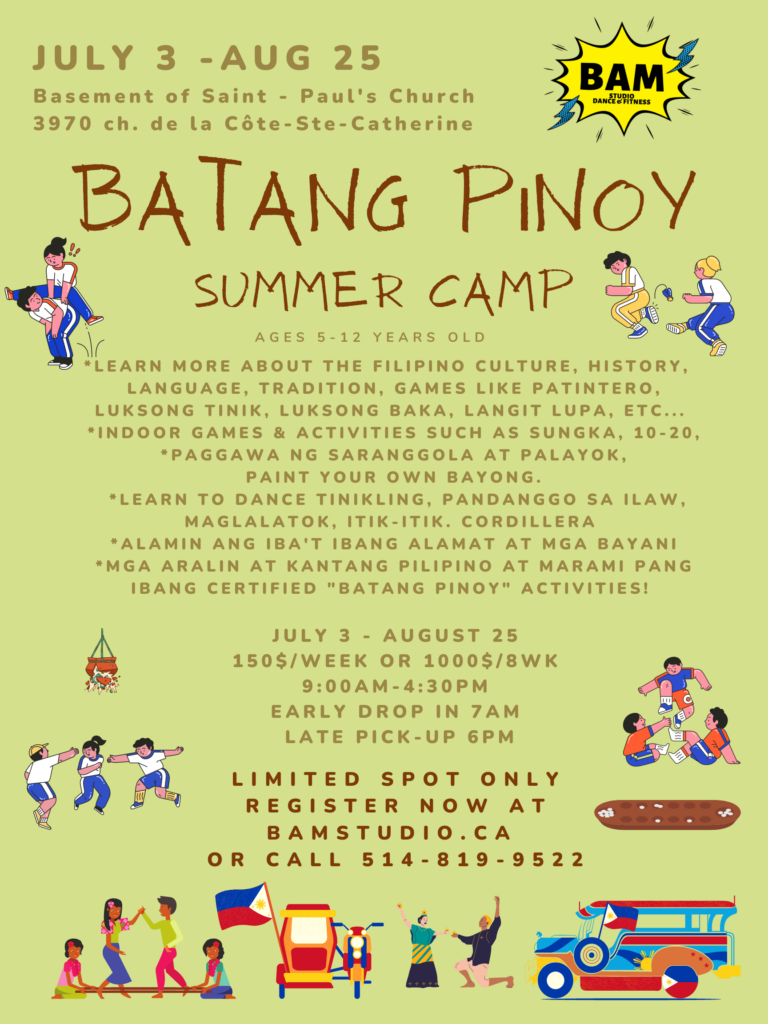 This program is held during school breaks for children aged 5 to 12 years old and will run for 8 weeks starting July 3, until August 25, 2023. The goal of the Batang Pinoy Summer Day Camp is to provide activities that promote Filipino culture, arts, history, language, tradition, film, sports, and education all while encouraging confidence, team building, good decision-making, values, respect, fitness, compassion, environmental awareness and to have fun.
Program Hours:
Drop off as early as 7:00 am and pick up by 6:00 pm. Structured activities will be from 9 am – 4:30 pm. Weekly activity schedules are available at the studio.
Price:
The weekly price is 150.00$ per child or 1000.00$ for the full 8 weeks. We offer a sibling discount of 10% on the total price. Please use the code: 10%OFF upon checkout. For families with more than 2 children, please use the code 20%OFF upon checkout. All fees must be paid in full one week before the start of a given week of camp.
Cancellation/Refund:
A refund may be issued if a written request is received 10 days before the first day of camp. No refund will be issued without a request made in writing. There will be a 10% per week registration fee charged for every cancellation.
Once the week of camp has started, a pro-rata refund will be issued based on the weeks your child attended camp that week. Being absent from camp does not constitute withdrawal from the program and does not entitle you to a refund. No refund will be issued if the child is sent home for bad behavior.
A $15 dishonored payment fee will be charged for any declined transactions.
 Fill out the form below to register:
TO REGISTER WITH A CREDIT CARD, CLICK THE LINK BELOW: